previous Events across the Region
The Macedon Ranges Vignerons Association (MRVA) and individual wineries across the Region hold numerous events throughout the year to promote the region and provide opportunities for all to visit and experience our wineries and taste our quality wines.
Scroll down for information on past events.
---
guildford vineyard, a classical afternoon, 21 september 2019
---

Affinity Quartet returns to Guildford Vineyard on September 21 to perform a special program exploring the evolution of the string quartet through masterworks by Purcell, Beethoven and Bartók. Cellar Door opens from 1pm for short and long eats by Chef Zack Grumont. Seated recital in the Barrel Room at 3pm.
Saturday 21 September, 1.00pm-4.00pm
Tickets $35 incl. glass of Guildford Vineyard wine
Reservations are essential, contact Mandy Jean 0411 253 506
---
Gisborne Peak Winery, Riesling & Seafood Sunday
25 August 2019
---

It's on again - the day when we bring out our aged Rieslings and serve the most delicious seafood platter. This year it will be oysters two-ways, beer battered flathead tails, seafood chowder and smoked salmon, served with warm Turkish bread. What a feast, especially paired with a glass, or flight of our Riesling.
Platters must be pre-ordered. Please call us on (03) 5428 2228.
Sunday 25 August
---
MRVA TRADE DAYS, MELBOURNE 12 AUGUST & SYDNEY 26 AUGUST
---

Macedon Ranges Wine is delighted to invite Australian wine trade representatives to our upcoming Trade Days:
Monday 12 August 2019, 11.00am-4.00pm
Arc One Gallery, 45 Flinders Lane, Melbourne
Monday 26 August 2019, 12.00pm-4.00pm
Paddo Inn Bar & Grill, 338 Oxford Street, Paddington, Sydney
The Macedon Ranges Wine Region is a unique wine region offering wines that are diverse, limited in quantity and true expressions of site.
Our Region is located less than an hour from Melbourne. Our vineyards range from 300 to 800 metres elevation making it the coolest grape growing region on mainland Australia. With the elevation comes high UV intensity and a large diurnal temperature range giving our wines both finesse, structure and high natural acidity. Most of our wines are small production, from single vineyards.
With over 10 wineries present on the day, showcasing our region's wine, this tasting will offer a snapshot of the diversity of producers in this somewhat undiscovered region on Melbourne's door step.
Note: This is a trade-only event for sommeliers, wine writers, wine purveyors, restaurateurs, hoteliers, etc. Please click on the button below to register your interest in attending.
---
gisborne peak winery, Roast Lunch Weekend Special, 10 & 11 august 2019
---

Wood-fired slow cooked roast beef & roast lamb served right out of the oven with roast potatoes, peas, pumpkin, and rosemary gravy along with warm bread. Apple crumble & ice cream also available for dessert (optional extra).
Only $22.00 per person.
Pre-bookings for your roast lunch are essential. Please call us on (03) 5428 2228.
Saturday 10th & Sunday 11th August
---
laneways of lancefield luncheon, 28 July 2019
---

Explore the diverse wine styles and wonderful produce grown in the laneways that weave around the township of Lancefield in the Macedon Ranges, at a truly special luncheon indulgence!!

Anyone who's ever explored Lancefield knows that there's a lot of dirt roads to traverse between wineries. And with that in mind, we're joining forces with some formidable Lancefield wineries to put together a lunch where you can enjoy some of these award winning wines all in the one place. Lunch will be prepared by one hatted Carlton restaurant Scopri, serving delicious produce from their biodynamically farmed kitchen garden in Romsey, Romsey Ranges Farm.

Wines will be served from some of the best wineries of the Macedon Ranges: Curly Flat, Lane's End, Lyon's Will, Parkside, and Wilimee, and our winemaking teams will be on hand to present the wines.

It promises to be a brilliant day, and what better way to experience all that the Lancefield subregion has to offer. Click here for more information.
Sunday 28 July, 12.00pm
Location: Curly Flat Vineyard, 263 Collivers Road, Lancefield
Cost: $165
---
lyons will chardonnay master class, lyons will estate, 27 april 2019
---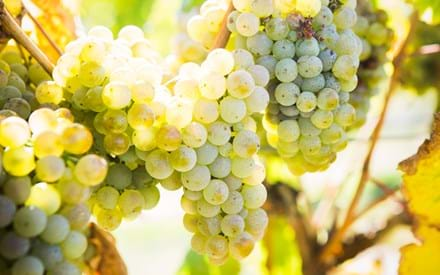 This event is an exclusive tour through our vineyard with winemaker and vigneron Oliver Rapson. Explore the nuances of different Chardonnay clones, aspects of terroir and variances in vintages, including '14 (sold out), '15, '16 (Current Vintage) and our unreleased '17.
This tasting will give you a good snapshot on what makes Chardonnay one of the top noble varieties in the world. The never boring Chardonnay is Australia's favourite white grape variety and is a staple in many wine cellars. Whether it is a relaxing drink in the sun or accompanying a meal, Chardonnay is and will always be a drink to savour.
Saturday 27 April, 11:00am - 2:30pm
Price: $55, including lunch in our Chardonnay block.
---
autumn garden at botanica estate, sparkling event, 27 april 2019
---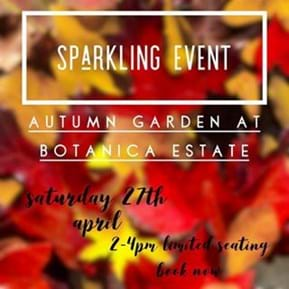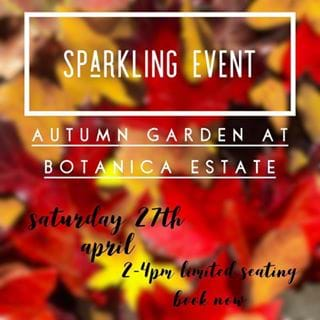 Join Botanica Estate for an exclusive Sparkling Event at this stunning time of year. Enjoy their vintage 2014 Sparklings with deliciously matched tastings at the Cellar Door.
See Botanica Estate's website for more information.
$75 per adult - Book now to secure your place as this opportunity is only for a limited number for this intimate afternoon of Sparkling & delicious tastes.
Saturday 27 April, 2.00pm to 4.00pm
---
picnic at the park, parkside winery estate, 25 April 2019
---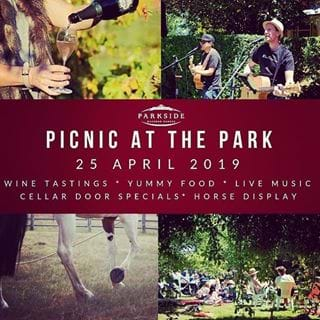 ATTENTION LOVERS of wine, horses and the great outdoors.
Parkside Winery Estate's 2019 Picnic At The Park is on again this Anzac Day. Wine Tastings, Food, Live Music and a special display this year of Natural Horsemanship. Tickets and information via Parkside Winery Estate's website.
Adults $22.50 and Children (Under 18) $12.00.
See you there!
Thursday 25 April, from 12.00 noon
---
food + fire + wine, lyons will estate, 13 april 2019
---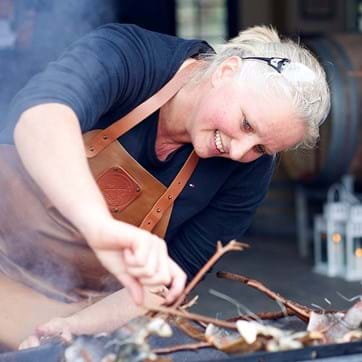 An intimate outdoor dining experience in a spectacular setting, developed by Bente Grysbaek, Lyons Will Estate and The Regional Wanderer.

Back by popular demand, we are hosting another Food + Fire + Wine experience this April, featuring the amazing outdoor chef, Bente Grysbaek (ex Denmark House).

Food + Fire + Wine is far from your conventional sit-down winery meal, it's an authentic and exclusive gastronomic journey. It starts with appetisers under the willows in the vineyard, followed by an intimate three course lunch, cooked over an open fire, matched with current and past vintages from Lyons Will Estate. You will have a front row seat and first-hand access to watch Bente do what she does best...and if you're feeling adventurous, an opportunity to get involved. Watching Bente is truly something else, it's rustic, minimalistic and mesmerising. And because you're at Lyons Will during vintage, we will provide you with guided ventures into the vineyard and winery giving you a rare insight into wine but also the chance to roll up your sleeves and get in on the action.

Food + Fire + Wine will stimulate your senses and by the time you've finished, will have coaxed you back for more.

We only hold two of these per year – so book early to avoid disappointment!
Saturday 13 April, Time: 11:30am - 4:30pm
Price: $195 per person self drive / $225 per person full package
---
head to the clouds - 2019 vintage celebration, passing clouds, 23 march 2019
---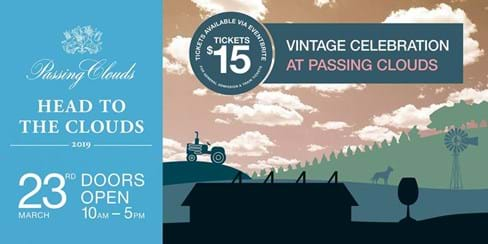 Passing Clouds is opening its cellar doors for a vintage celebration!
Head to the Clouds - its all happening! Our vintage themed activities are ready to go: traditional grape stomping, the untraditional barrel rolling race and the very technical throw the bung in the barrel!! Great prizes up for grabs - lots of fun for the whole family.
Meet the winemakers, taste the wine and stay for lunch matching your wine tasting experience with an exclusive four-course set lunch from the coals designed by our Head Chef Cameron McKenzie and matching wines chosen by our Head Winemaker Cameron Leith in the Passing Clouds Dining Room.
Also, on offer for the day is outdoor seating to enjoy live music, local food and coffee vans, 'The Clouds' wine bar and of course wine tastings. This vintage celebration will also offer all customers some unique and special tasting moments in the Cellar Door, winery tours, wine tastings with the winemakers.
Tickets are selling fast via Eventbrite and don't forget the complimentary train service to and from Daylesford. There are a few more spots available for the winemakers workshops in the afternoon, the morning session is sold out!!
Click here to visit our Facebook page for more information.
Saturday 23 March 2019. The fun starts at 10.00am!
---
Meet the winemaker, kyneton Museum, 10 march 2019
---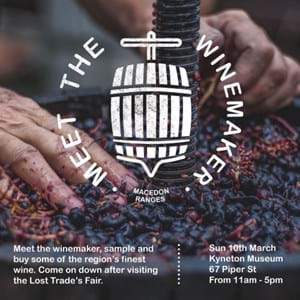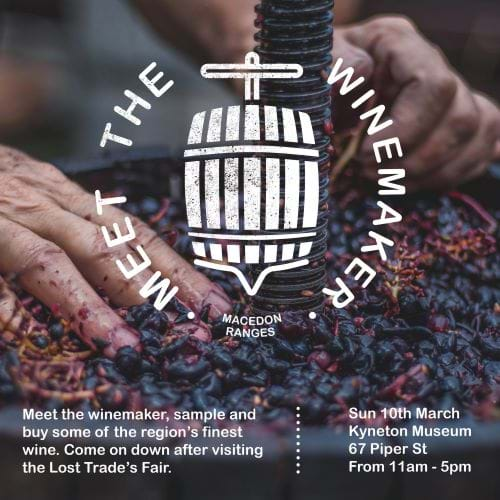 Meet the Winemaker is a great way to try many of the extraordinary wines from the Macedon Ranges as well as being able to purchase wines on the day. Many of the leading wineries will be present, all in the one place, with a wide range of wines including Sparkling wines, Pinot Noir, Chardonnay, Riesling, Shiraz, Gamay, Sauvignon Blanc, Cabernet, Pinot Gris, Sangiovese, & more. With The Lost Trades Fair at Kyneton Racecourse, make a day of it and join us for a taste of our special wines.
Tickets are only $10, and are available through TryBooking (click the button below), or at the gate on the day. A ticket entitles the ticket holder to a wine tasting glass for tastings of any of the wines from all the wineries.
Date: Sunday 10 March 2019, 11:00am - 5.00pm
Venue: Kyneton Museum, 67 Piper Street, Kyneton, Victoria 3444
---
long table at dusk, gisborne peak winery, 23 february 2019
---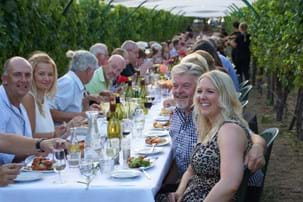 The Long Table at Dusk is the one time during the year that Gisborne Peak Winery opens its doors in the evening and invites their guests to join them for a magical dinner amongst the vines. It is an opportunity to immerse yourself in their beautiful vineyard atmosphere whilst enjoying a spectacular five course menu. Enjoy delicious wines and food to match while you watch the sun set over Mt Gisborne. The lighting is golden, the air is soft and the smells are sweet at this time of day.
Frank Gorlitz of Schatzi's Woodend is doing the catering this year, so you can be assured that the food will be fantastic.
The evening starts at 6.00pm with a complimentary glass of Sparkling and appetizers on the deck. It's important to be on time, because at 6.30pm guests will move out into the vines. Seated at one long, communal table, guests enjoy three delicious courses; wine will be sold by the glass and by the bottle, with pairing suggestions listed on menus. At about 9:00 pm, guests will move back into the Cellar Door area and enjoy dessert (with Muscat and Espresso coffee also available as an optional extra).
Note: Bookings are absolutely essential as numbers are limited, so please click on the button below for more details and how to book.
---
Cleveland winery - pinot & petanque - 19 January 2019
---

Join Cleveland Winery for their Sparkling Pinot and Petanque event. Bring your friends and family and enjoy a fun day out in the Macedon Ranges. Grab a glass of sparkling wine and enjoy a leisurely game of Petanque or sit back on the lawn and enjoy the live music. Head to their famous Underground Cellar for a Blind Tasting session or sample locally made liqueurs from Herbal Lore or boutique beers from Tooborac Brewery. Plus lots more.
Saturday, 19th January 2019 – 12-5 pm.
Early Bird Offer!
All tickets booked before 25 November 2018 get a 20% discount on accommodation until February 2019.
Couples and groups packages are available.
---
A Classical Afternoon at Guildford Vineyard
2 December 2018
---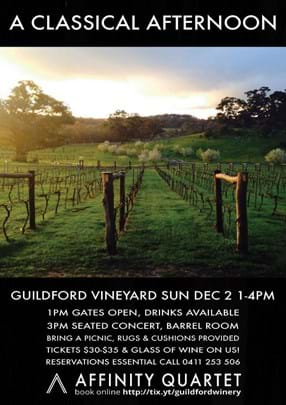 Spend the afternoon in the stunning grounds of Guildford Vineyard on Sunday 2 December from 1pm! Bring your own picnic lunch, collect a blanket and pillows from Cellar Door, and find a spot in the grounds. Enjoy a wonderful recital program by Affinity Quartet in the Barrel Room at 3pm. Tickets are $30-$35 and include a complimentary glass of wine. Picnic spots can be reserved online at http://tix.yt/guildfordwinery, or by calling 0411 253 506.
Affinity Quartet is celebrated for taking listeners deep into the classical chamber music experience through their absorbing musical interpretations.' (Play On Music) For this performance, the Quartet presents a beguiling program of music from the nineteenth century to the present. Beginning with Argentinian composer Osvaldo Golijov's haunting and beautiful Tenebrae ('Darkness'), the program also includes Australian composer Matthew Hindson's pulsating TechnoLogic for string quartet, and finally, Felix Mendelssohn's shimmering String Quartet No. 2, completed in 1827 when the composer was just 18 years old.
Click here to view a short video of Affinity Quartet.
---
Wine and Food Festival - 17 & 18 November 2018
---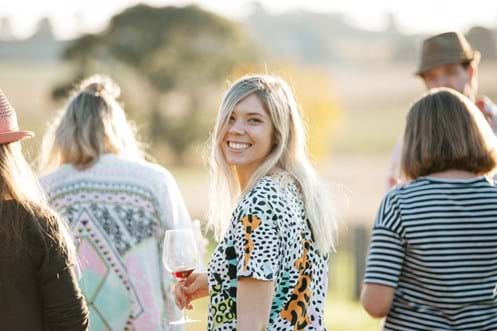 The Macedon Wine and Food Budburst Festival showcases the diversity and quality of wine and food being produced in our region and is a key annual event that promotes the brand image of the Macedon Ranges as a leading grape growing and wine making region.
Over 30 participating wineries across the Macedon Ranges open their cellar doors and vineyards enabling visitors to explore the diversity of our wineries and taste wine that can often only be sourced at the Cellar Door.
The Festival will be on 17 and 18 November 2018.
---
wine Exhibition gala dinner - 5 October 2018
---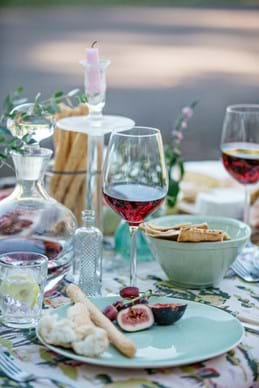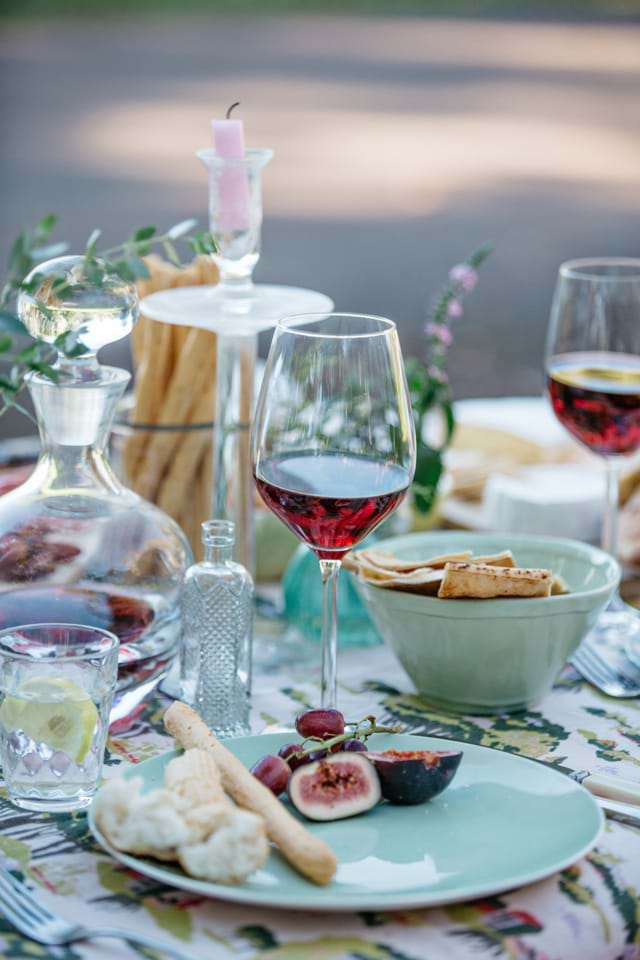 The 2018 Macedon Ranges Exhibition Wine Show and Gala Dinner were held in the week beginning 1 October 2018. These two events are highlights for the region as we recognise outstanding wines and celebrate excellence in regional winemaking.
The Wine Exhibition judging took place on Monday 1 October and culminated in the celebratory Gala Dinner on Friday 5 October, where the best wines of the Wine Exhibition were showcased and the awards and trophies were announced.