upcoming Events across the Region
The Macedon Ranges Vignerons Association (MRVA) and individual wineries across the Region hold numerous events throughout the year to promote the region and provide opportunities for all to visit and experience our wineries and taste our quality wines.
Scroll down for information on these upcoming events:
Gisborne Peak Winery - Roast Lunch Weekend Special - 10 & 11 August 2019
MRVA Trade Days - 12 and 26 August 2019
Gisborne Peak Winery - Riesling & Seafood Sunday - 25 August 2019
Wine and Food Budburst Festival - 9 & 10 November 2019
---
gisborne peak winery, Roast Lunch Weekend Special,
10 & 11 august 2019
---

Wood-fired slow cooked roast beef & roast lamb served right out of the oven with roast potatoes, peas, pumpkin, and rosemary gravy along with warm bread. Apple crumble & ice cream also available for dessert (optional extra).
Only $22.00 per person.
Pre-bookings for your roast lunch are essential. Please call us on (03) 5428 2228.
Saturday 10th & Sunday 11th August
---
MRVA TRADE DAYS, MELBOURNE 12 AUGUST & SYDNEY 26 AUGUST
---

Macedon Ranges Wine is delighted to invite Australian wine trade representatives to our upcoming Trade Days:
Monday 12 August 2019, 11.00am-4.00pm
Arc One Gallery, 45 Flinders Lane, Melbourne
Monday 26 August 2019, 12.00pm-4.00pm
Paddo Inn Bar & Grill, 338 Oxford Street, Paddington, Sydney
The Macedon Ranges Wine Region is a unique wine region offering wines that are diverse, limited in quantity and true expressions of site.
Our Region is located less than an hour from Melbourne. Our vineyards range from 300 to 800 metres elevation making it the coolest grape growing region on mainland Australia. With the elevation comes high UV intensity and a large diurnal temperature range giving our wines both finesse, structure and high natural acidity. Most of our wines are small production, from single vineyards.
With over 10 wineries present on the day, showcasing our region's wine, this tasting will offer a snapshot of the diversity of producers in this somewhat undiscovered region on Melbourne's door step.
Note: This is a trade-only event for sommeliers, wine writers, wine purveyors, restaurateurs, hoteliers, etc. Please click on the button below to register your interest in attending.
REGISTER HERE MELBOURNE TRADE DAY POSTER SYDNEY TRADE DAY POSTER
---
Gisborne Peak Winery, Riesling & Seafood Sunday
25 August 2019
---

It's on again - the day when we bring out our aged Rieslings and serve the most delicious seafood platter. This year it will be oysters two-ways, beer battered flathead tails, seafood chowder and smoked salmon, served with warm Turkish bread. What a feast, especially paired with a glass, or flight of our Riesling.
Platters must be pre-ordered. Please call us on (03) 5428 2228.
Sunday 25 August
---
Wine and Food BUDBURST Festival - 9 & 10 November 2019
---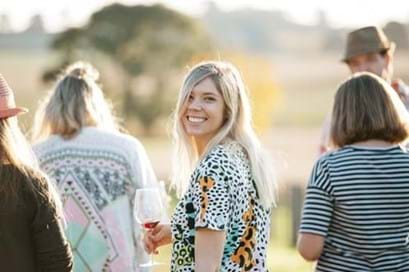 The Macedon Wine and Food Budburst Festival showcases the diversity and quality of wine and food being produced in our region and is a key annual event that promotes the brand image of the Macedon Ranges as a leading grape growing and wine making region.
Over 30 participating wineries across the Macedon Ranges open their cellar doors and vineyards enabling visitors to explore the diversity of our wineries and taste wine that can often only be sourced at the Cellar Door.
9 and 10 November 2019
Tickets available from August.